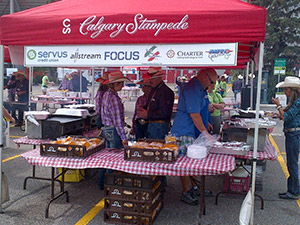 Calgary Italian Bakery supplied buns to the Alberta Food Aid benefit concert on August 15, 2013. Here are some photos from the event and a thank you note from the Calgary Stampede:
On behalf of the Calgary Stampede and the Calgary Stampede Caravan Committee I would like to take this opportunity to thank the Calgary Italian Bakery for their generous contribution to the Boots On! Stage segment of the Alberta Flood Aid concert held at McMahon Stadium on August 15th.

Your participation in this event allowed Caravan to offer a BBQ lunch to guests for $10, with 100% of the proceeds going to charity.

I am delighted to report that organizers have confirmed that our collective efforts have resulted in a donation of $24,085 to The Calgary Foundation!

A small amount of food product was left over from the event, all of which has been donated to the Calgary Food Bank for distribution to agencies and individuals in need.

You and your organization are to be congratulated and thanked for your contribution, participation and generous community spirit!